Contacts
To contact the author, send email to bacon1953@icloud.com or write to The Write Stuff, P.O. Box 1282, Battle Ground WA 98604.
Welcome to a piece of Pacific Northwest history. What better way to experience history then to see it in snapshots of ordinary life? The area selected for this book, Battle Ground School District, is one of the largest school districts in Washington State and encompasses 41 early communities in Clark County.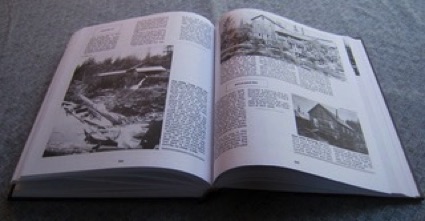 Location
Battle Ground is located in Southwest Washington where Pacific Northwest history began near the city of Vancouver along the Columbia River. This Vancouver was the first of two Vancouvers established by the Hudson Bay Company as trading posts. When the boundary line between British and United States territory was established well to the north, the second Vancouver was established by the company in British Columbia, Canada and eventually surpassed Vancouver, Washington as a major northern commercial center.
Last of Three printings
This, the third edition, of Battle Ground . . . In and Around was printed in the fall of 2006, twenty-two years after the 1984 second printing. This edition is basically the same as the last two but with an added page of notes collected by the author since the first printing in 1976. The first edition was a Bicentennial endeavor by Silver Star Junior Women's Club, a GFWC club (General Federation of Women's Clubs).
Subsequent printings have been self-published by the author under her publishing company, The Write Stuff.
Quality first
This coffee table book was printed on fine quality paper and hand bound in a cottage enterprise by a family in the Willamette Valley, Oregon. Included are 400 pages of over 1,000 photos and other illustrations. The pages were printed from metal plates made before the "digital age."
Original photos were loaned to the author by pioneer families in the area, copied and quickly returned.
Photos were chosen for inclusion based on their relevance to pioneer life. Although a few families are portrayed, this book is not a book of family histories.
Printing technology changed
Composition of book layouts has changed dramatically between the time of the first printing and now. The process has evolved from cut and paste and film negatives which became strips of paper to metal plates to an entire digital platform.
In today's world the process of copying photos through digital scanning is not only speedier but much less expensive.

There are no plans for any future printings. When the current inventory is sold out there will no longer be copies available.