"I especially enjoyed making visits to pioneer families while researching and borrowing photos. There were always cookies and a cup of coffee offered."
Louise Tucker-Author
How did so many small rural communities get published in such a big comprehensive book?
When a local primary school was built in the early 1970s a dedication event was in order. The author belonged to a women's service club, the General Federation of Women's Clubs (AKA GFWC) who planned an evening dubbed "The Old Picture Show Night" to help celebrate the school's opening.
Residents of the area were invited to bring old photos that showed the way people in the area lived in days gone by. As a result there were enough photos that night to cover nine large library tables. The chairman of the project, who also worked at the local newspaper, was urged to publish the many photos into a pamphlet.
With help of The Reflector newspaper and its owners, John and Olivia Dodge, in three years the "pamphlet" grew into a full-fledged 400 page hardbound book with over 1000 photos and illustrations. The chairman became the author while other club members tended to other details such as indexing and conducting a pre-sale.
Part of the first edition was funded through a United States Bicentennial Commission Grant and with a GFWC-sponsored book presale and autograph party. The profits from the club's book sales were spent on several projects to generate interest in local history. One project was called Mini-Mobile-Museums. Large lockable glass display cases were placed in local banks and schools. Clark County Historical Museum volunteers rotated displays in the cases periodically. In addition a sizable contribution was made to help build a large shed for antique farm equipment at the Clark County Fairgrounds. GFWC purchased the Clark County Historical Museum's first copy machine.
The first printing sold out rapidly. Tucker formed the company, The Write Stuff, and self-published two more printings of essentially the same volume as the first in 1984 and 2006. The first edition's cover shows an embossed Bicentennial logo; the second; a gold sketched fir tree; and the third, a sketch of the tree plus an early store.
About the Author
Tucker is a native Washingtonian who grew up on her grandparents' farmland. She attended the one-room Pleasant Valley Grade School, Battle Ground High School, Clark College and Pacific Lutheran University.
Maiden Name
Louise M. McKay
Married Name, printing #1 & #2
Louise M. Allworth
Married Name, Printing # 3
Louise M. Tucker
Author's Interest and Affiliations
Louise Tucker believes in "Living the Volunteer Spirit," GFWC's motto. She is a member in several historical related organizations and other cultural and literary groups.





North County Historical Museum



Prince of Peace
Lutheran Church
Friends of Battle Ground Community Library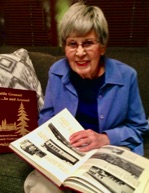 Fabricating the book
It's not often that an author typesets and lays out his or her own book, especially in the 1970s. After hours, Tucker was given use of The Reflector's Compugraphic Jr. typesetting machine and she often used it until midnight. Paper strips of type were pasted onto sheets for each 8 page "signature." These became negatives which became aluminum plates to attach to cylinder-shaped printing press drums.
Photos were processed into negatives of fine screenings and incorporated into the page layouts.
Daughters of Pioneers of Washington
Louise Tucker reflects on the three years it took to produce the history book