Communities and pioneer schools in this book
Alpine
Amboy
Barberton
Battle Ground (original)
Battle Ground (later)
Bee Tree
Brush Prairie
Bumcomb Hollow
Chelatchie Prairie
Charter Oak
Cherry Grove
Crawford
Dole
Dublin
Dunnigan
Etna
Eureka
Fargher Lake
Fifth Plain
Glenwood
Good Hope
Gravel Point
Green Mountain
Hockinson
Kumtux
Lucia
Manor
Maple Grove
Meadow Glade
Mountain View
Pleasant Valley
Rock Creek
Salmon Falls
Saint John
Tum Tum
Union
Venersborg
View
Yacolt
Where are the 41 communities included in this book?
The area covered is essentially the present day Battle Ground and Hockinson school districts. Geographically, BGSD is one of the largest school districts in the state of Washington encompassing about 300 square miles. Originally Clark County and much of rural Pacific Northwest was made up of hundreds small school districts with one and two-room school houses.
As the population grew, more classrooms were required. Children needed a broader education with expanded opportunities. The educational structure became inefficient. The state office of Superintendent of Education began allowing, in fact encouraging districts to consolidate with larger districts.
With consolidations small communities lost their community centers. With the loss of social life came the loss of community identity.
Battle Ground . . . In and Around provides photos and information about these early communities. Included is a listing of early school district consolidation dates and their changing state-assigned numbers. Most of the consolidations recorded here took place im the 1940s and 1950s. Nearly all small districts in north and central Clark County converged into what is now one expansive Battle Ground School District.
In the back of the book are mini-maps showing known locations of pre-consolidation schoolhouses.
Some small communities grew to become business centers
Not all communities lost their identity. Yacolt and Battle Ground became incorporated cities. Amboy and Brush Prairie are business centers. Fargher Lake, Manor, and Meadow Glade also offer services.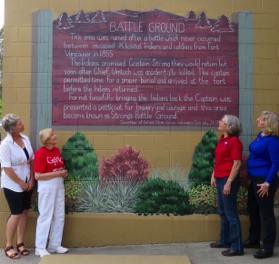 BGSD schools receive books
The author recently presented 14 copies of Battle Ground . . . In and Around to the school board for distribution to each school in the district.
Battle Ground's naming
Because this volume is based on photos and there were none taken of the 1855 confrontation, the story of the "non-battle" is not included in this book. Pioneers had not yet inhabited the site for which the area was named.
With the purchase of each book, a pamphlet telling the story is often included - courtesy of Friends of the Battle Ground Library.
Mural replaces wooden sign
When the 1972 wooden sign began to deteriorate, it was replaced with a mural near Andersen Dairy's entrance. Left to right: Kara McGee, artist; Louise Tucker, author; and Valerie Huey and Terry Grendahl, members of GFWC-Battle Ground (financiers of the mural).